Emma grew up in Haywards Heath, West Sussex, which she always thought was the most boring place in the world, but now can see wasn't such a bad place to grow up at all.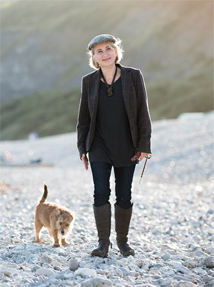 After a stint au pairing in Paris – she got terribly homesick and a bit plump on patisserie – and some half-hearted attempts to backpack across Europe, she did a degree in English and got a job as a journalist on a trade paper. When she got bored of writing about computers, Emma swapped to articles for national newspapers on everything from making compost to family holidays in Sweden.
Emma's first attempt at fiction was a picture book called Rainy Day, published by Transworld. She also wrote a number of books for schools about things like death and stress and drug abuse. Cheerful stuff!
She now writes thrillers for teenagers and young adults. She admits she's addicted to intriguing stories – whether in books or on TV or the big screen – and that feeling of desperately needing to know what's going on and what happens next.
Now You See Me: Three years ago, Hannah's best friend Danny vanished without trace. Not knowing if he's alive or dead, she struggles to move on with a life shrouded in secrets and suspicions… But as hope returns to haunt Danny's family and their desperation is used against them, can Hannah bear to expose the painful truth? Or is it better to live in the dark?